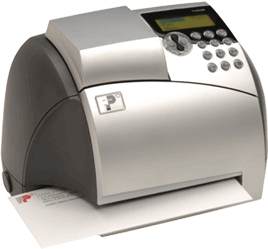 MyMail MAX Postage Meter
MyMail MAX is suitable for small businesses, home offices, and organizations who have outgrown inefficient hand-applied stamps, and are ready to step into postage automation. You'll have no more time-wasting trips to the post office to buy stamps. The MyMail machine can download postage via MailCredit companion software, and the integrated scale allows you to automatically imprint the correct postage on your letters and bulky packages.
Process mail as rapidly as 15 letters per minute.
Compact size (12" wide X 8" deep) fits comfortably in your existing space.
High capacity integrated 5lb scale sets postage accurately and quickly.
Download postage via analog phone line or internet (using connected PC).
Add custom messages to your postage imprint (indicia).